21st Annual Film Festival
#LetsGetReel
Partners & SponsorsPast Screenings
In a Land Divided, Hope Begins in the Heart


Wrestling Jerusalem

RSVP
Monday, April 30, 2018 - 7 pm
Zale Auditorium - Dallas JCC
Drama - 2016 | 90 minutes
Director: Dylan Kussman
Language: English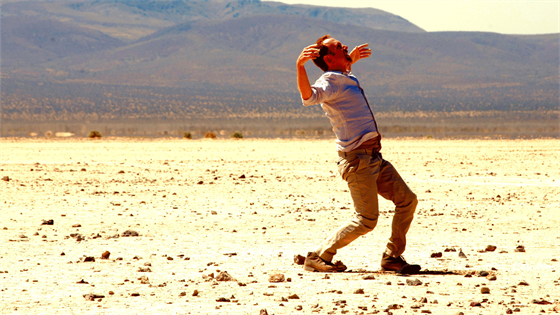 In a tour-de-force performance, writer-actor Aaron Davidman conjures a host of different characters while seeking answers to the Israeli-Palestinian conflict in WRESTLING JERUSALEM. Creatively adapting his acclaimed one-man stage show using only simple props and backdrops, Davidman takes a multidimensional journey into the heart of the Middle East, and the intersection of politics, identity and spiritual yearning. He embodies and gives voice to 17 different characters on all sides of the existential divide–deftly moving between male and female, Jewish and Muslim, Israeli and Arab–modeling what it takes truly to bear witness through the eyes of the other. Challenging long-held beliefs with sharp and unblinking observation, Davidman finds both entrenched isolation and shared humanity in the shifting moral compasses and competing narratives of all his characters. Filmmaker Dylan Kussman moves freely and seamlessly among three locations–a live theater audience, the open expanse of a vast desert, and a small dressing room–exploiting the interplay of theatrical spontaneity, cinematic poetry, and spiritual intimacy. The result is a unique hybrid of stage and cinema that reignites hope for the future of this troubled region.
Presented with:
---
The Jewish Film Festival of Dallas Emerging Filmmaker Prize
in memory of Dr. Peter Marcus z"l
Each year the Jewish Film Festival of Dallas will award a cash prize to a young DFW filmmaker that shows merit in creating a film containing Jewish content or theme. The winner will be chosen by a select committee after an application period for entries. More than one award may be given depending on number of applicants and value of works submitted.
Submit Your
ApplicationSupport Young Artists in DFW!
Make a Donation
When submitting your application, download the PDF first, then fill
in the editable fields, save, and email to [email protected]
For more information, please contact Producer Rachelle Weiss Crane at 214-239-7128 or [email protected].