22nd Annual Film Festival
Presented by

Partners & SponsorsFilmmaker PrizePast Screenings
Buy a Season Pass
$130 (J members) | $160 (non-members)
To purchase, contact Rachelle Weiss Crane at 214-239-7128 or [email protected], or Adina Weinberg at 214-239-7182 or [email protected].
Film Ticket Pricing
Advance Online Sales*

Door Sales

J members: $13
Non-members: $16
Students with student ID: $10
General admission: $16
Students with student ID: $10
*Online sales close:
12 pm same day for week night films
9 am same day for weekday matinees
12 pm on Friday prior for Saturday and Sunday films
---
All films at Studio Movie Grill Spring Valley
The Testament
Tuesday, September 4 @ 7 pm
Drama - 2017 | 96 minutes
Director: Amichai Greenberg
Language: Hebrew, German, Yiddish w/ English subtitles
Community Partner: Ackerman Center for Holocaust Studies at The University of Texas at Dallas
Yael, a dedicated Holocaust historian, is in a race against time to prevent the desecration of a mass Holocaust gravesite in Lensdorf, Austria. The Austrian authorities have given him a deadline for the construction of a road on what could be the remains of the victims. He examines classified testimonies of Holocaust survivors who could be possible witnesses to the massacre of 200 Jews in Lensdorf in 1945. To his astonishment, he finds a testimony from his own mother who refuses to discuss her past. What will his unshakable commitment to the truth reveal?
"The truth is not mine, it is not yours. The truth is absolute", Yael tells an Austrian reporter.
This movie highlights the importance of honoring and remembering all those who were killed in the Holocaust. Every frame of this film is full of mystery and tension and you will be glued to your seat as Yael's meticulously structured existence begins to unravel with the facts he discovers.
Talk Back: Dr. David Patterson, Hillel A. Feinberg Chair in Holocaust Studies, Ackerman Center at UT Dallas.
TicketsTrailerNY Jewish Week Review
---
The Cakemaker
Wednesday, September 5 @ 7 pm
Drama - 2017 | 104 minutes
Director: Ofir Raul Graizer
Language: Hebrew, German, English w/ English subtitles
Community Partner: Congregation Shearith Israel
This tender drama traces with exemplary sensitivity the unlikely bond formed between Tomas, a gay German baker, and Anat, the Jerusalem-based widow of the man they both loved. When Tomas learns that Oren, his Israeli lover, has died in a car accident in Jerusalem, he is devastated. He goes to Israel to learn more about his lost lover, but things become complicated when he gets a job in Anat's failing restaurant.
Expertly crafted, this film is a moving portrait of grief and catharsis and marks an auspicious feature debut for Israeli writer-director Ofir Raul Grazier. With its soft lighting and wistful piano score, this moving drama raises a complex range of social and religious questions.
Talk Back: Rabbi Adam Roffman, Congregation Shearith Israel.
Ticket sales will begin Wednesday, August 1.
Trailer
---
Sammy Davis Jr: I've Gotta Be Me
There are two screenings of this film.
Saturday, September 8 @ 9:15 pm
Documentary - 2017 | 100 minutes
Director: Sam Pollard
Language: English
Community Partner: Congregation Beth Torah

Wednesday, September 26 @ 1 pm
Documentary - 2017 | 100 minutes
Director: Sam Pollard
Language: English
Community Partner: Belmont Village Senior Living Turtle Creek
This exhilarating documentary is an account of the complex life of a legendary entertainer who strove to achieve the American dream in a time of racial prejudice. He was the first African-American public figure of his time to embrace Judaism, to which he remained devoted throughout his stellar career. The film spans his debut at the age of seven through his time with the Rat Pack to some of his final performances.
"I'm Puerto Rican, Jewish, colored, and married to a white woman. When I move into a neighborhood, people start running in four directions at the same time".
- Sammy Davis Jr.
Featuring new interviews with famous stars like Billy Crystal, Kim Novak, and Jerry Lewis, never-before-seen photographs from Davis' vast personal collection, and excerpts from his electric performances in television, film and concert, this entertaining documentary reminds us that Davis was a trailblazer in every sense of the word.
Talk Back (9/8): Beri Schwitzer, Director Congregational Learning, Congregation Beth Torah.
---
GI Jews: Jewish Americans in World War II
There are two screenings of this film.
Wednesday, September 12 @ 1 pm
Documentary - 2017 | 84 minutes
Director: Lisa Ades
Language: English
Community Partner: Dallas Jewish Historical Society

Sunday, September 16 @ 1:30 pm
Documentary - 2017 | 84 minutes
Director: Lisa Ades
Language: English
Community Partner: Holocaust Museum/Center for Education & Tolerance; Jewish War Veterans of the United States Dr. Harvey J. Bloom Post 256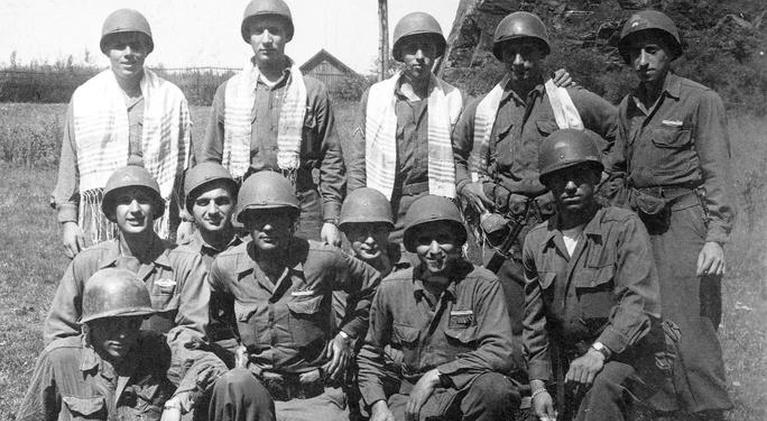 This fascinating documentary tells the extraordinary experiences of the 550,000 Jewish American men and women who fought in World War II. In their own words, veterans both famous and unknown (from Hollywood director Mel Brooks to former Secretary of State Henry Kissinger) bring their war experiences to life. They narrate how they fought for their nation and their brethren in Europe, while at the same time struggling with anti-Semitism within their ranks. After years of struggle, they emerged transformed, more powerfully American and more deeply Jewish.
Lisa Ades is a documentary filmmaker who has produced and directed films for PBS and cable television for more than 20 years. She completed a 7-part series on the history of the Jews of Syria for The Sephardic Heritage Museum in Brooklyn, NY.
Talk Back: Dr. Sara Abosch Jacobson, Chief Education, Programs & Exhibits Officer, Dallas Holocaust Museum/Center for Education & Tolerance.
---
Bye Bye Germany
Thursday, September 13 @ 7 pm
Dramedy - 2017 | 102 minutes
Director: Sam Garbarski
Language: German w/ English subtitles
Community Partner: Adat Chaverim, Women of Adat Chaverim, and Adat Chaverim Brotherhood; The Legacy Senior Communities
At the end of the Third Reich, most surviving Jews from the Holocaust understandably left Germany as quickly as possible. But former Sachsenhausen inmate David Berman sees his scarred homeland as the land of opportunity. He recruits Jewish traveling salesmen in a shady scheme selling overpriced linens door to door to guilt-ridden Germans. Meantime, he faces interrogation by an American military intelligence officer about his past as an alleged Nazi collaborator.
This film is based mostly on co-screenwriter Michel Bergmann's debut novel, "The Traveling Salesman", inspired by his own family history. The movie and novel try to answer the question why 4,000 Jews elected to stay in Germany after the war. With a jaunty Klezmer-style score and Yiddish-inflected dialogue, this polished drama is tempered with bittersweet humor. Ultimately, it is an engaging salute to European Jews who chose to tough out painful memories to reclaim their lives.
---
Shelter
Saturday, September 15 @ 9:15 pm
Suspense - 2017 | 93 minutes
Director: Eran Riklis
Language: Hebrew, Arabic, English w/ English subtitles
Community Partner: Congregation Anshai Torah
Mossad agent, Naomi, reluctantly accepts a special mission at a safe house in Berlin. Her assignment is to protect Mona, a Lebanese informant who is recovering from identity-changing plastic surgery. Slowly, a fragile bond develops between these two women from vastly different worlds. But with Hezbollah militants getting ever closer to finding them, their tentative alliance is sorely tested. A nail-biting espionage thriller with surprising twists and turns.
Internationally-acclaimed Israeli Director Eran Riklis (Lemontree, The Human Resources Manager), presents us with a labyrinth of deception, paranoia and intrigue featuring powerful performances by award-winning actresses Golshifteh Farahani and Neta Riskin and a standout supporting role by Israeli star Lior Ashkenazi (Foxtrot, Footnote).
---
Heading Home: The Tale of Team Israel
Monday, September 17 @ 7 pm
Documentary - 2017 | 85 minutes
Directors: Daniel Miller, Jeremy Newberger, & Seth Kramer
Language: English
Community Partner: AJC Dallas; Consulate General of Israel to the Southwest
Heading Home charts the unbelievable journey of Israel's underdog national baseball team, competing for the first time against the elites of the World Baseball Classic. Thanks to the WBC's rules on eligibility, the team consists of a number of Jewish American professional baseball players. Most of them had not had much exposure to Judaism, let alone been to Israel. The team does much soul-searching, discovering the pride of representing Israel on the world stage.
You do not have to be a baseball fan to be moved by the account of how this team bonded together in a unique fashion. Their odyssey takes them from Tel Aviv and Jerusalem, where they are greeted as heroes, and on to Seoul, where they must debunk their has-been wannabe reputation. This inspirational documentary hits a home run to be enjoyed by the entire family.
Talk Back: Omer Chechek-Katz, Consul, Consulate General of Israel to the Southwest.
---
The Body Collector
Thursday, September 20 @ 7 pm
Drama - 2016 | 143 minutes
Director: Tim Oliehoek
Language: Dutch w/ English subtitles
In this gripping true-life drama, an investigative journalist fights to unmask a prominent art collector as a murderous Nazi war criminal. When multi-millionaire Pieter Menten auctions off a portion of his prized art holdings, journalist Hans Knoop receives a tip from an Israeli: Menten is hiding his Nazi past, as he executed many Jews in Poland, and stole their artwork. Knoop embarks on a hunt for witnesses to Menten's atrocities.
The Body Collector is the highest-rated series in Dutch television history. It depicts the heavy price Knoop must pay in his tireless search for truth and justice. He is stonewalled by bureaucrats and threatened by Menten, but he refuses to go down quietly as he persists in his search for the truth.
---
The 90 Minute War
Saturday, September 22 @ 9:15 pm
Satirical comedy - 2016 | 84 minutes
Director: Eyal Halfon
Language: Arabic, English, Hebrew, Portuguese
After decades of strife and failed peace talks, the leaders of Israel and the Palestinian authority agree to end the intractable problem once and for all. The solution agreed on is a winner-take-all soccer match. One 90-minute game will decide who can remain in the holy land and who must go. This brilliant tongue-in-cheek satirical comedy offers a thought provoking take on the conflict.
Based on a successful novel of the same name, The 90 Minute War is directed by veteran Israel director Eyal Halfon and stars well known actor Moshe Igby as the Israel team manager and Norman Issa (Arab Labor) his Palestinian counterpart. As these two managers prepare for the highest stakes game of their careers, nothing is easy - from finding a stadium to agreeing on a referee. The trials that ensue cast a fresh and humorous light on the conflict.
---
The Last Suit
Thursday, September 27 @ 7 pm
Drama - 2017 | 86 minutes
Director: Pablo Solarz
Language: Spanish, Hebrew w/ English subtitles
Community Partner: BNAI ZION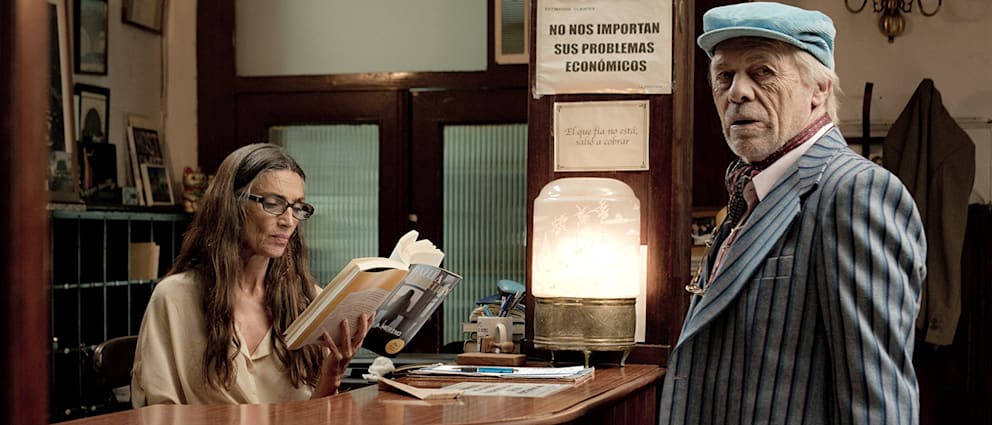 Eighty-eight years old, Abraham Bursztein refuses to bow down to family pressure to move into an assisted living residence. Instead, he embarks on a wild journey to Poland in search of the friend who nursed him back to health when he returned from Auschwitz, more dead than alive. With only his memories and a cast of strangers to aid his journey, Abraham resolves to fulfill the promise he made to his friend seven decades before.
Writer-director Pablo Solarz imbues his heartfelt and charming tale with a nostalgic klezmer-infused score and delicate humor. The Last Suit is ultimately a poignant message of the enduring importance of family, friends, and honor.
Talk Back: Dr. Zsuzsanna Ozsváth; Leah and Paul Lewis Chair in Holocaust Studies, Ackerman Center at UT Dallas.
The Jewish Film Festival of Dallas Emerging Filmmaker Prize
in memory of Dr. Peter Marcus z"l
Each year the Jewish Film Festival of Dallas will award a cash prize to a young DFW filmmaker that shows merit in creating a short film containing Jewish content or theme. The winner will be chosen by a select committee after an application period for entries. More than one award may be given depending on number of applicants and value of works submitted.
Submit Your
ApplicationSupport Young Artists in DFW!
Make a Donation
When submitting your application, download the PDF first, then fill
in the editable fields, save, and email to [email protected]
For more information, please contact Producer Rachelle Weiss Crane at 214-239-7128 or [email protected].
Produced with additional support from